A couple of weeks have passed since I finished my tour. The feeling is that it was a lifetime ago. For the last several days, I have been editing my pictures from the trip. I've narrowed the 4,000 I took down to about 250 that are worth viewing. The process has been a forced reminiscence. At times moving and other times dull–just like the tour.
I arrived in Paris with a few days to kill and a significantly dwindling bank account. Without friends there, I spent my days wandering the streets and buying nothing. I would tour the city for bookstores, or cheap wines. I spent a considerable amount of time on foot and on the metro. The catacombs were closed, the lines for museums were astronomical, and I kept walking. I sat by the Seine tearing off bits of bread to eat and sipping from a bottle of red wine. Probably the moment that if you wanted to romanticize the trip, would be the easiest to romanticize.
I repacked the bike into its original box, which R. had graciously kept in his apartment for 6 weeks. When he got back from a weekend away, we were able to go out for drinks in the city. I met a couple of his friends and had my first opportunity to use the VeloLib system. Cruising around Paris on borrowed bike was a blast, and convenient. I wish that San Francisco would catch up on this.
I was flying out of ORLY and got to the airport around 5am. The lines for the check-in counter were closed and I stood around anxiously with my mammoth box. Airline travel is usually not something that causes me stress, but I have a hard time relaxing when I'm hauling around something so large and hoping it will get safely on a plane.
Once I approached the counter, I got involved in a one-way conversation with the British Airways employee. That is, I would occasionally say something and he spent all of his time staring quietly at his computer and occasionally tapping on the keyboard like it'd been the first time he'd seen one. My irrational fears regarding bringing a bike onto the plane mounted. And then we had this conversation:
"How many bags are you checking?"
"One bag and the bike."
"So one additional bag?"
"Well, the one bag and then this bike."
"OK, so you have one bag in addition to the one free checked bag?"
"Uhm, yes."
And that is how they accepted the bike onto the plane as a normal additional bag, and not as a gigantic heavy box with a bike and a ton of additional stuff in it. The cost was a reasonable 50€, and I was on my way.
My trip home was long and strange. On the way to France I felt like I was rowing out into a foggy lake. I didn't have any concept of how bike touring would feel. The snags and complications, the emotions and the land itself. Now that I was headed home, I was pushing back into familiar territory. And I was wondering how much it had changed.
The most shocking thing about being home is how little has changed. Within days, I had returned to my old patterns. My breakfasts taste the same. My bed feels the same to sleep in. My friends are just the way I remember them. Work is work. The normal feels very strange.
I look at the artifacts of my voyage: the pendant from L'île d'Yeu, the bike, the torn-up atlas. It feels like I dreamt about something and woke up holding it. I spent so much time planning this tour and talking about it as if it weren't a real thing. And now I sit and stare at the atlas and think about how strange it is that now it is all over. The Christmas presents have been unwrapped, all of them. The test is over and I'm thinking about what it was like to study for it. I'm struggling to express how it feels to invest so much time into such a fleeting thing.
Since I've been back, people have asked me how the trip was. Or if I had fun. Neither question is quite possible to answer succinctly or shortly. It was good, sometimes. It was fun, sometimes. It was also wet and hard and joyful and too long and too short and a learning experience and sometimes it was something that taught me nothing. I enjoyed it and I also did not. I would do it over again, but I would never do it again. At least, not the same way.
I had lunch with a friend of mine the week I got back. He immediately pointed out how similar the city of San Francisco was to how I had left it. "You expect it to be different when you get back from traveling," he said. "But it never is."
I think I expected more than anything that I would be different. And perhaps it's too soon to say for certain whether or not I am, in any significant way. One of my biggest motivations was a friend who had hiked the Appalachian Trail and returned with a new confidence. A week after I got back, I declined an offer to attend a poetry reading because the weather was gray and a little bit rainy. This after pedaling through endless miles of cold rain alone. Instead I made a warm drink and played some video games with a friend. Because perhaps it was just something I longed for when I was on the road.
And so maybe that is the question: what do you find on the road? Do you discover things about yourself that you can't find out if you stay home? Does the world change or enrichen you? I'm still not sure that I know.
Here is what I do know: That I have accomplished something significant, that I am proud of it. That there is a lot more to explore, and that I want to see it. That there are advantages to traveling alone. That next time, I will bring a friend. That good times come after bad times, and that bad times come again. That I would rather be terrifically challenged than bored.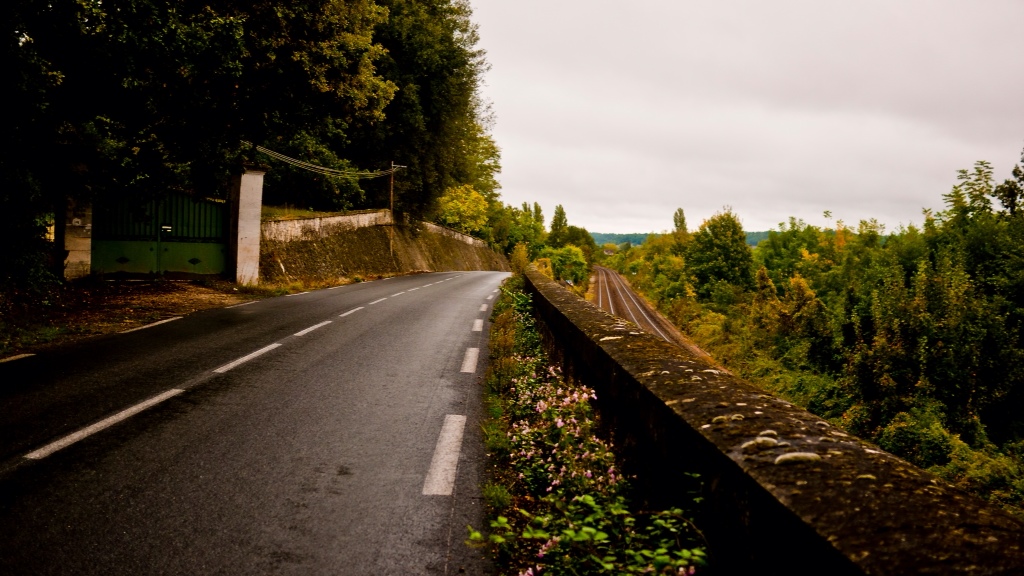 So here's my farewell to the roads of France. Darkened by rain, dried by the sun, smooth and beautiful roads. And all that they showed me, inside and out.