I have a few days of catching up to do. Bear with me.
When I left my host's house in St. Gilles, I had a pretty functional ride ahead of me. I wanted to get close enough to Mont St. Michel to see it early the next day. Other than seeing the Mont from across the bay, I didn't have any clear objectives. I headed southwest.
Most of the day I felt strong in the saddle. My favorite moments of riding aren't necessarily when I'm coasting downhill (although those are nice), they tend to be when I'm pulling steadily. With a straight chainline in my middle gear, I like to push evenly and hard. This is when I feel healthiest.
I managed to press on a good many miles (dammit, KILOMETERS! I swear this happens at least three times a day. I'll be comparing my cue sheet to the odometer on my bike and I'll say to myself, "oh great, just another ten miles. KILOMETERS!" Or else, "hmm, I wonder how far that is, can't be more than a few miles. KILOMETERS!" and so on) and found my way to route D911. This is a touristy road that skirts the northeast coast of Mont St. Michel bay. From here, you can see the incredible city, like this:
That sandy lowland area you see isn't always a marsh. At high tide, the bay completely fills it. The tidal area is massive, and is said to move as quickly as a horse's gallop. I was pretty astonished.
I continued on to Avranches. It's a developed town on a giant hill. Very pretty with old statues and stone walls. I still had some energy, and although the tourist office was closed, their wifi worked from outside. I found a campground in a small town at the bottom of the hill and a half hour's ride from the Mont. I ate some peanuts and sped to the campground.
The campground was sleepy and clean, with a kind host. I set up my hammock, felt wrong about the place it was, pulled it down and set it up elsewhere. The spot was nice, but the night was very very cold. I have since started sleeping with my sleeping mat under me, and my hoodie and hat on.
In the morning, I made breakfast and repacked my bags. I took my notebook, iPad, wallet, & camera and tossed them into one small pannier. Then I took my shoulder strap and attached it. I placed my other bags under my hammock and took off for the Mont. Even approaching it is wild:
The parking lot is far from the actual town. Most people park and take shuttles, although some walk. I weaved my bike around a couple of barriers and rode straight to the entrance. There, I walked it inside and locked it up to a barrier (this turned out to be a mistake. When I checked on the bike later, it was surrounded by three gendarmes who were not all that happy about it being there. I smoothed things over and parked it right outside).
It's really fun walking around inside Mont St. Michel. I was immediately bombarded with a mix of wonder and intellectual puzzlement. This one-of-a-kind marvel is mostly carefully preserved. Except that the manic winding street to the top is flanked with creperies, tourist shops, and bars. Entry to the Mont is free, but bathrooms will cost you .50€. The streets are little more than 10' wide, but packed arm-to-arm with tourists of every nationality (mostly French, German, Japanese, and American). Also, the elements that probably shouldn't be celebrated, like war, are. Strange.
I wound my way to the top and begrudgingly paid 9€ for entry to the abbey. It felt like there must be equal square footage in the abbey and the streets below. It was hard to take any pictures that weren't filled with tourists, though. Here are a couple: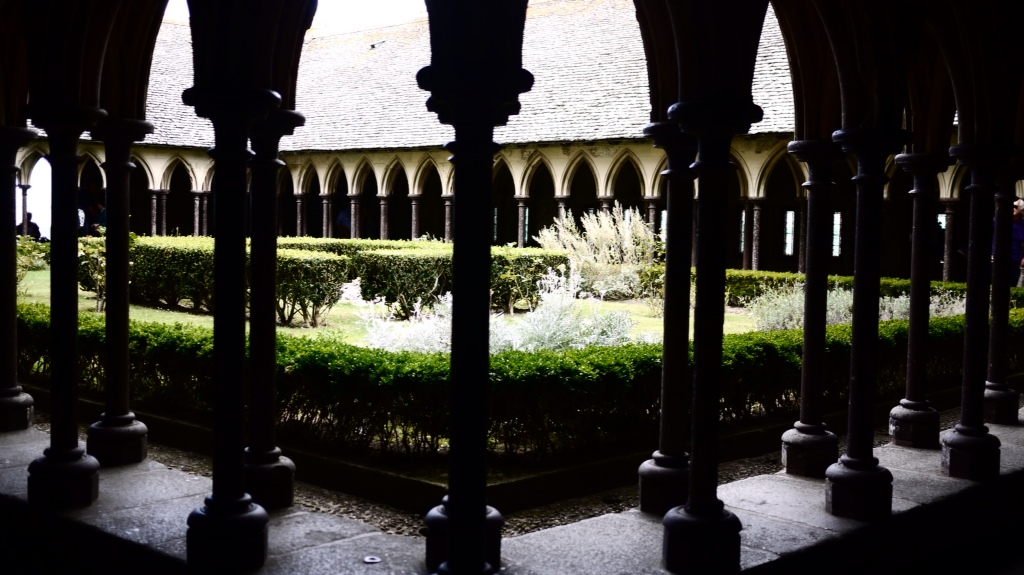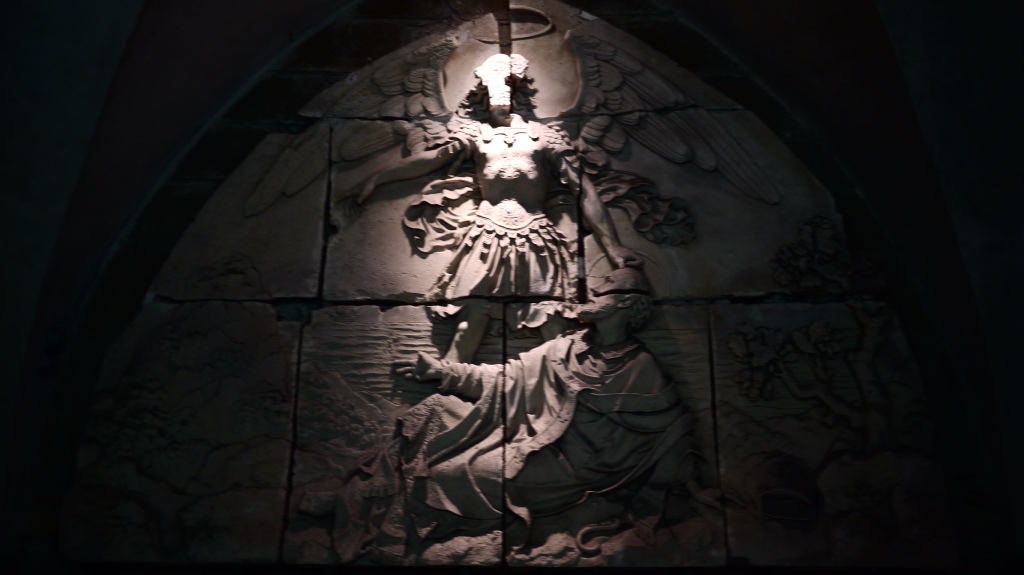 If I were a religious man, I would probably say more about the abbey. It is massive, pretty, and clearly the centerpiece of the town (which was built around it). I don't mean to offend, but living beneath such a vast structure dedicated to a belief system that everyone around you asserts is undeniably real–it would be damn near impossible to question your religion.
After exploring the abbey, I found a pizza shop that had beer on tap. I sat at the bar and wrote a few postcards and talked to the bartender. He had been working there for 26 years. I asked him if he could guess the nationalities of customers before they spoke and he answered that he could. He did a fine job with other customers (the overweight American man in a Nike t-shirt and his wife who both ordered things by pointing at them were probably pretty easy). He got mine wrong, though.
Two beers and two postcards later, I left the pizza shop and walked out onto the busy pathway leading up to the abbey. Not ready to leave quite yet, I grabbed a can of Kronenburg at a sandwich place and ducked through an alley. I found a pretty ledge away from the foot traffic and took some time to write in my journal.
Then I took off, found my bike, and headed back to the camp site. I got some groceries, stared at maps, and then went to sleep.
The next morning, I knew that I had to split a long journey to my next warmshowers host site into two days. I started my day by heading west past the Mont and following the bay. I know that there is a huge system of bike-friendly roads that runs across the bay in this part of France. It's called the EuroVelo and runs all throughout Europe, with varying degrees of signage and maintenance. I meandered along the bay without paying much attention to my directions and picked up the EuroVelo route.
I wish I hadn't. The route immediately put me onto a rocky, uneven gravel pathway that I assumed would soon transition to a smooth road. It didn't. In fact, it went on this way for miles. KILOMETERS. I swear the French will pave anything. I haven't found a path to a tree stump that wasn't as smooth as a kitchen counter. And here, when planning the great European bike route, they choose the only lousy road in France. To hell with EuroVelo.
The EuroVelo route dropped me off by a small pretty church in a small pretty town. I continued to follow the bay west and then started the process of following my directions. Because I knew I had to find a bridge eventually, following directions became necessary.
It turned out to be a very long and difficult day. I got lost a few times, and turned around a couple more by construction. When I finally made it to my target village, I walked into the local tabac for some bread to have with dinner. The woman there was rude and impatient. People will tell you that the French are impatient with those who speak their language badly. I do, and this is the first person I met who was. I got my bread and headed to the local campground. It just felt lousy. I was hungry and tired, but the whole village didn't sit right with me.
I rode a few more kilometers to the next town. There I found another campsite, this one also totally empty. I pitched my hammock, stretched, and charged my electronics in the bathroom. After dinner, I plotted my course for the next day. And then I wrote this. I have a shorter ride tomorrow, and I am looking forward to getting out of the north of France. Although it is beautiful here, the nights are cold. If you know anyone who wants to hang out in the south of France, though, let me know.