Small rituals develop quickly. It's been less than a week that I've been off the road, and I have already developed a pattern to my days. I wake at 7 and put on some coffee. With it and my guitar, I walk down to the edge of the yard. For the next hour I slowly sip the coffee and I play. I watch either the sunrise, or if there is no sunrise to watch, I attend the brightening of the blacks into purples and then grays. The edge of the yard is the top of a wide hill, so I can see far around. Serpents of fog slip into narrow valleys far off. Roosters and dogs banter to one another across the wet fields.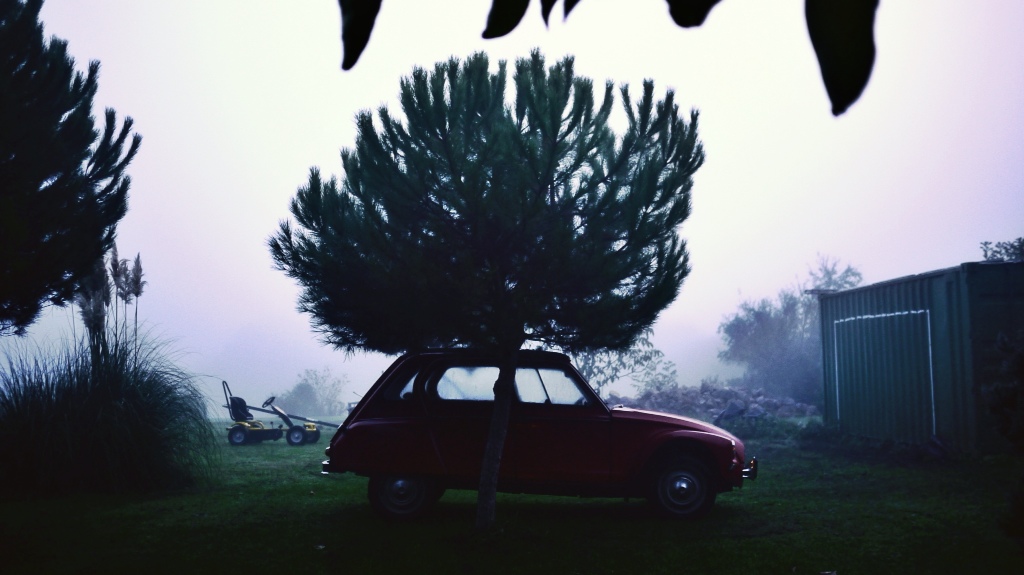 Around 8:30 I join my hosts for breakfast. At the table, I read about the American election. I talk to my hosts about what I can help with that day. I put on work clothes, which are just my riding clothes, and then I work for a couple of hours. I break before lunch to sit and drink a cup of NesQuik and talk about the news. This is not my ritual, but theirs that I have joined. I work again until lunch, hauling branches, trimming hedges, painting or digging holes. After lunch I do more of the same. And at some point I stop.
The work days are never long or difficult. Never at all. But it is good work that makes me happy. When I am done, I do some yoga, meditate, and shower. Afterwards I do some research always on where I should be going next and what I should be doing when I leave here. I have finally decided, but it took quite a while. I previously had only an hour to decide where I would be going, after reaching camp and unpacking and eating I would look through my maps and plot a course. Now I've had nearly a week and it has taken that long. Work is said to fill empty spaces in time. Physical or otherwise.
I am in Limeyrat. The village is small, the entire thing perched on top of the wide hill I've described. There is a town hall, a bar, and a boulangerie. A cemetery sits timidly against the road. If you follow the village's main street and do not turn off to the departmental route, you find that it reaches a dead-end at a stone church. Just beside that church is the house where I'm staying. A recovered ruins that the family has converted into a beautiful home.
Fall is filling the air with the smell of musty dying leaves, rotting apples and crisp breeze. I am in love with the feeling of a tangible season. Of the sensation of knowing that something has ended and something new is getting ready to begin. San Francisco is a beautiful city, but it knows nothing of seasonal change to this degree. The emotional regularity of the seasons in California is still somewhat sad to me. It's as if the moon is always half full. Like the conductor has kept the audience in their seats while across town another orchestra wails in love and sadness. There's an expression where I live, that you, "move to San Francisco, have a few drinks, and then you're 30." We've smashed all the clocks in protest, but time hasn't slowed. Mostly emotionally perhaps, a temperate change in seasons allows a marking of the passing of time that I no longer have access to as a Californian. From my little home in Limeyrat, I am delighted to be a part of the autumn.
I took to heart my intention to slow my pace to a halt, however briefly. And I do not regret that I've done it here. This small life is comfortable, suitable to me, and allows me to speak French and have a feeling for village life. If my intention was to understand what I could in a brief time what it meant to live here, I am in the right place to do it. In fact, with a little money I can see this being a way of life for a person looking to see the world. Perhaps it is even sustainable for long periods of time–to live with families, work in exchange for lodging, and then press on again.
And that's where I've arrived, nearly ready to see what is next on the read. Soon I'm headed east to the forest and then south again to Toulouse and then the Mediterranean. Hopefully towards more lodging this comfortable, more people this agreeable. If not, I have what I need on the bike with me. Tonight is my last here. I spoke in English with my hosts, which we have not done yet extensively. It felt personal and necessary. Tonight I will clean the gîte and pack my bike. I will sleep well in my warm bed. Tomorrow, home is wherever I stop pedaling.