The wind had not abated in the morning. The plastic and canvas walls of the picnic shelter where I ate my breakfast flapped wildly. The sounds were violent. I took my time, finishing some writing and eating plenty. I made a second cup of coffee, ignoring my concern about a dwindling fuel supply.
A bit later than usual, I left the campground and headed east through the massif central. I had arranged lodging with a host only 70 kilometers away. My concern was that the day would be long, even with the modest distance. I expected more of the same severe winds, several big climbs, and a few rain showers if I somehow avoided a completely wet day.
Immediately I noticed a difference in the land around me. The landscape had been slowly transforming for days. The expansive hills were becoming wider and sometimes taller. I experienced more open farmland with distant rolling hills. The farmland was crisscrossed with low white stone walls in various states of disrepair. The walls were coated, often seemed to be dripping with red moss.
The day I'm describing became more and more beautiful, indescribably so. It would be impossible for any photographer, let alone a B-grade photographer like myself, to capture the majest of the massif central. Rolling hills dip and slope and continue endlessly, all the while resting high above the lowland valleys. To the effect that you can make several smaller climbs and descents before happening upon a long steady downhill race into a low beautiful valley. The valleys are long and flat, with tall trees and low grass. Rivers, wide and slow, run along smooth roads and peaceful villages. I know now why the word verdant exists, because the word green is truly insufficient for places like this.
I took few photographs, and a more dedicated photographer would have taken more. But I felt good leaving the land to its beauty without attempting foolishly to capture it. I'm not unsettled that no picture of this land is great enough to do justice or transport the viewer. On the contrary, I'm put to ease knowing that there are parts of the world that you have to visit. That no book or photograph or film can take you to. And that no description or tale can evoke. My French-born San Franciscan friend who tricked me into believing that France had an Indian summer (two months of rain) made up for his betrayal by insisting that I visit the massif central.
My map indicated two rivers running east-west with high cliffs on either side. My route was directly south, meaning that I would steeply descend and climb each. A murmuring and valid concern persisted that I would be hit with a strong headwind on a climb. Worst case scenario, the climb would be near impossible with a fully loaded bike. This rude combination didn't coalesce until the next day. Though on long slower climbs I was often faced with strong headwinds that persisted for up to an hour. Pedaling uphill into the wind is the kind of thing that's horrible in such a Beckettian sense that it doesn't break my spirit. I tend to smile, and periodically laugh as rounding a corner reveals another 800m of uphill road bordered with grass that's bent towards me.
I have agreed upon meeting my hosts almost universally with dubious instructions. The movie theater by the church, the church at the end of the road, the top of the hill by the train station. And the instructions for finding my host's house on this night were no different. A left turn after I had climbed a hill for 2-3 kilometers. The barn at the end of the road. And yet like every other time, the instructions panned out perfectly. I wound up at a low ranch-style home. My host carried her youngest daughter while the other two bolted around their home, filled with toys and their laughter. After I showered, we all went for a walk through the woods to visit the two local springs, neither of them running. To my surprise, the cat came along for the long walk. It came when called and stuck with the group, falling behind and running to catch up.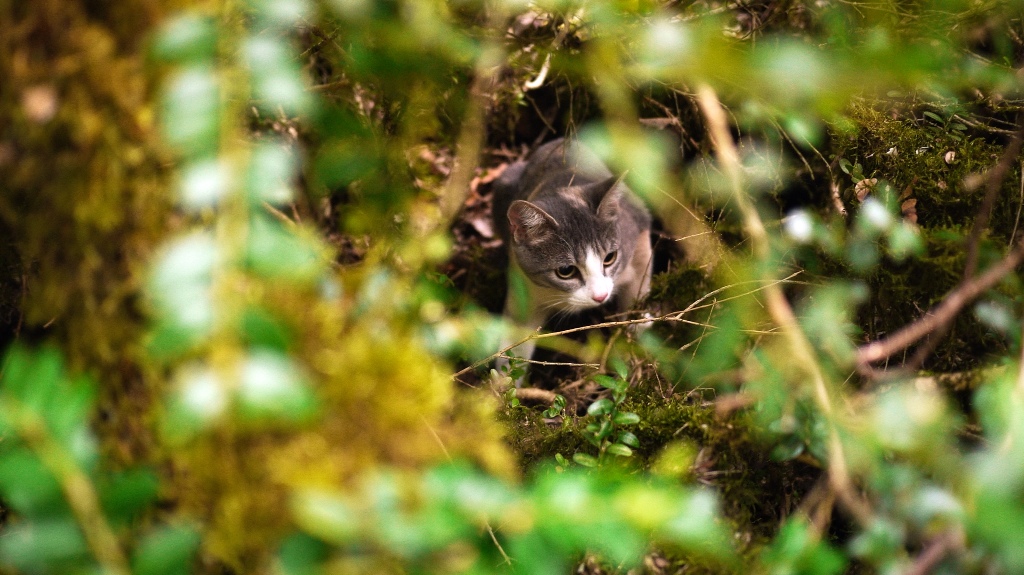 I agreed to some tea after dinner, but couldn't hold out and retired to the guest room. I slept like a stone and woke up to the sound of the continual wind. Outside under the purple sky, the wind was forcing the trees into wide circles. It shook them violently, throwing leaves about the yard. After coffee and breakfast, I headed out for another day of strong wind, deep valleys, and green hills.
I had agreed to meet my host for the next night outside of the town hall at a certain hour. This is somewhat risky, given the difficulties in anticipating the length of a route. Cutting diagonally across the land would have given me roughly 50 kilometers to travel. The prettier route ran due south and then due west in the longest distance possible without completely backtracking. I took it.
60 kilometers into my ride, I seemed to be about halfway to my destination. I didn't have nearly enough time to make my arrival, it seemed. My average speed was the worst it had ever been, hovering around16km/hr. Long climbs and persistent headwind had plagued my day, although again the beauty was unspeakable.
At exactly the moment that I felt I was going to be well late, I crested the top of a hill. There I discovered a monument dedicated to cyclotourists, to my kin.
What immediately followed was the fastest and longest and fastest descent I've happened upon. 10km of steep decline along smooth and empty roads, an open valley looming wide on my right. I topped out around 55km/hr, barreling down the mountain towards the flat lands below.
My luck continued as my westward turn brought with it a strong tailwind. I crossed long flat valleys at a strong clip as a storm loomed directly in front of me. Heading straight into the darkening clouds along fields of dying sunflowers was one of the most remarkable feelings I can remember, and one I won't likely forget. The kilometers ticked off easily as I approached Montauban.
Rain fell and then quickly cleared. I arrived at the town hall 9 minutes before the agreed-upon time. What could have been a 50km ride turned into 104km of beautiful effort. I sat on the steps of the building, happy and tired with my muscles feeling good and true.
Before long my host arrived and introduced himself. I followed him in his car, his daughters smiling at me from the back seat, to his house. There I had a shower and some food and a warm drink. We played a board game with his three beautiful daughters and awaited his wife for dinner. My host was welcoming and friendly, wearing a constant smile and bearing an easy laugh. He had toured the world on bicycle for two years with his brother and had pictures hanging around the house from Pakistan. He had visited Iran and Azerbaijan. My tour suddenly felt friendly and easy, if not insignificant.
In the morning we went for a walk, and then returned to pile into the car. In Montauban, we visited the local outdoor market where I bought ridiculously good goat cheese, aged cheese, bread, and fresh yogurt. After we made it home for a belly-expanding lunch, I left for what I anticipated to be an easy 60km day along a flat canal. But I had agreed again to meet my host at a certain hour…