The campground in Fromentine exited onto a part of the continent-spanning EuroVelo network of bike routes. At that point, it was basically a wide and docile mountain bike path winding sometimes speedily through beautiful forest land. I pushed along at often 30kmh through hard packed dirt, impressed by the nimble handling of my heavy bike.
I had given myself another easy day. It was only 80 kilometers until Les Sables D'Olonne. It would have been less on major roads, but bike routes tend to add considerable mileage of serpentine meandering. In fact, a word about bicycle routes in France is probably overdue. To say that I've had mixed success with them would be a gross understatement. They have been everything from gorgeous and easy to muddy and lonely. From smooth and straight to indirect and rocky. They often mislead you, and even the best ones have awful signage that requires backtracking and careful observation. They do often take you through pretty towns. In one such village, I had lunch near a beach. There was a line of large upright stones, darkly rising from a series of glimmering tide pools.
With plenty of time for travel, I had the opportunity to stop and enjoy the day. This isn't always possible. I've been joking with other cycle tourists that bike touring is sort of like doing errands all day long for weeks at a time. You maintain a constant mental list of things that you need to find, buy, or accomplish. If that list is long, or something will be difficult to cross off it, it's often impossible to spend time on a beach writing. My list was short and the day felt long. Happily, I rested and wrote and took some pictures.
I arrived in the late afternoon at my host's house in Les Sables D'Olonne. It's never possible to guess exactly what you can expect from someone willing to host cycle tourists. If you guess that they're going to be warm and inviting, you are almost certainly going to be right. Any more than that and you're guessing. J. and his wife were very kind. She asked if I wanted to join some local theater players for some theatrical exercises. I thought it would be weird enough to be obligatory, but I was too tired and hungry to even briefly consider doing it. I also had to figure out where to go next, which often takes time.
In fact, the question was starting to haunt me. Each host had been more somber than the last about my prospects in finding campgrounds. In France, many close in September. Most of the rest in October. Each night it would be more difficult to find a place to sleep, and I had four more weeks ahead of me. I was worrying more and more about the rest of my trip and had begun searching for farms to work on and people to stay with for longer.
I came to France largely to learn the language and culture. Bike touring alone had allowed me to see the country, but I wasn't speaking much French unless with a host. It seemed to make sense to stop somewhere, but I just didn't know where.
I woke up feeling disquieted by the question. But at least I had an immediate plan: arrive in Bordeaux in three long days of riding. Another host could receive me there, and I strongly desired to see the city. From there, I would figure something out.
I left the city late in the morning heading south on the EuroVelo. Soon after leaving, I noticed a girl beside the road looking at a map. She was standing over her fully loaded touring bike. I wondered if she was headed south as well. I wondered too what it would be like to travel with a companion. Then I continued on.
Following the EuroVelo was difficult south of the city. I lost it several times, once heading a half dozen kilometers in the wrong direction to a small beach. When I found it again, it took me away from the ocean. I rode through farmland that soon turned into thick marshes. I felt like the route had circled back north and I was rather disoriented.
Twenty kilometers into my day, I turned a corner and saw the girl I had seen in the morning. Again she was stopped, looking at a map. This time I stopped and we talked. We figured that she had passed me when I got lost and headed for the beach. She was English and headed for Bordeaux as well. She also wanted to make it in just two nights. We decided to get there together. It was bizarre to speak freely in English and quickly it was the most English I'd spoken in weeks.
I am learning the difference between touring solo and with a companion. It's obviously a less solipsistic existence. Someone else is there to balance your emotional response to things and double check the signs. Also, E. is a nice girl and quite smart.
We both had the goal of arriving in La Rochelle that night. I had it on good word from the Internet that there was a campground there that was open. We had to stop many times to study the bike route. After a long and difficult day, we arrived to find the campground closed. It was tucked away behind a municipal building. Although the bathrooms were closed, there was one spout with running water. We found a nice spot out of eyesight and settled in for the night. After 125 kilometers, we simply had no intention of finding another campground.
In the morning we made breakfast on the grounds. There was a picnic table next to probably the stupidest mini golf course I've ever seen. The obstacles were made of stone and could not possibly have been skillfully avoided. The picnic table worked.
Then we filled up our water and settled in for another long day. We wanted to arrive in Royan that night and take the ferry in the morning. Unfortunately, the EuroVelo added far more kilometers than we anticipated. It wound wildly at will through more marshes, forests and fields. A long detour had us riding over grass beside a river and some pastures.
We rode along the canal just east of Marennes. It was an interminably straight path that seemed to extend forward like an optical illusion. The sun sat languidly, as it does in October, ready to drop behind the oranging trees. That's when we realized that Royan would be impossible. We didn't have the daylight hours left to make it to the portside town. Instead we aimed for Marennes.
When we arrived there in another hour, it was near dark. We happened upon a McDonald's and used their Internet to find a campground. But there were none. Six kilometers away, there was a bridge that led to another town. It was lousy with campgrounds, the map dotted crazily with red markers. We knew that at least one of them had to be open. We put lights on our bikes and departed in a hurry. We were excited to take a charge at the bridge before the sun set.
The bridge was gorgeous. I took a nice panoramic photo that I'll show you sometime. On the other side, we found an open campground nestled into a pine grove. That's where we stayed the night, fending off mosquitos but happy with another long day accomplished.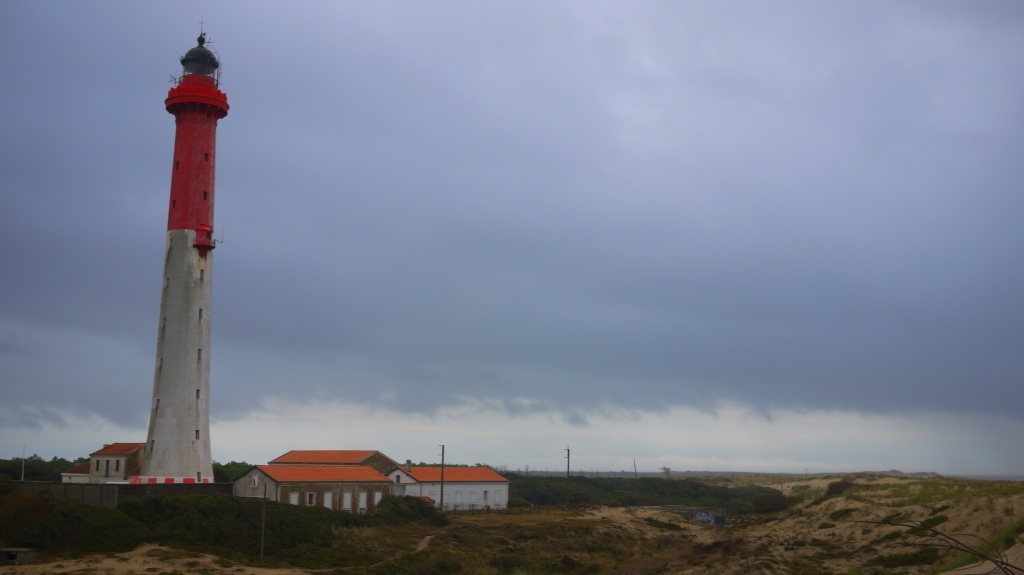 In the morning, we rose early and took off for Royan. It was raining hard on the forested path. Luckily, the path was paved and there was no mud. I tried but probably failed to explain to E. just how great it was to be on a path in the forest with no mud.
The path stretched on for many kilometers before reaching a beach. The forest abutted the beach directly across from a massive sand dune. We stopped for breakfast under a large lighthouse and I fixed a flat tire. A sign there indicated 23 kilometers from Marennes and another 23 kilometers to Royan.
From there the path continued along impossibly beautiful beaches. The beach towns we rode through were deserted. In the off-season, they're near-apocalyptic. But one can just imagine how busy they must get. The sheer number of outdoor showers, lawn chairs, picnic benches, water slides, and hotels is enough to make it clear.
The forest north of Royan is special. Dark wet pines mixed with bright yellow ferns in a near-tropical display. We rode fast along the forested paths, hoping our timing would prove lucky with the ferry.
In Royan, we found the port and had just an hour to kill before departing. We had two coffees at a local restaurant and I used their Internet. E. had told me about another way to spend time in France–a website where you can find places to work in exchange for room and board, but not necessarily farms. I was in contact with a yoga retreat center east of Bordeaux. Here perhaps I could practice French, and yoga, and have a bed to sleep in each night.
When the ferry arrived and we boarded. That's where we met C. (same name as me). French, and also a cycle tourist, he was headed down the coast to see a friend near Spain. We chatted about our bikes and joked that the rainy day would be over just as soon as we finished the short ferry crossing.
In fact, that's exactly what happened. The sun came out as we crossed. On the other side, we rode together to find a campground. C. was starving, so we rode quickly. Once we got to the nearest town, we found a woman in the office of a campground. But she said that it and all of the other campgrounds nearby were closed.
We tried another. The gate was open and we walked inside. The large campground was close to town and to the beach. It still had running water. C. called the number posted on the door. Although closed for the season, the owner agreed to let us stay for free. We found a pretty spot and then made it comfortable. We found a table and chairs and even a small barbecue pit. The afternoon was warm and the night was clear. We could hear the nearby waves crashing on the shore.
That night we ate around a table and made a fire. Campfires are illegal in France, so this was the first I'd had on my journey. It was wonderful to have friends and a fire. I spoke French to C. and English to E. When necessary, I translated.
We had another long day to Bordeaux, so we woke up before the sun rose. We broke down camp and had a big breakfast at our table. C. wasn't headed in our direction. So we had a picture together and exchanged information and then parted ways. E. and I mentally prepared ourselves for a long journey.